Real-time Location System (RTLS) solutions are steadily increasing their penetration into the healthcare community, and are now used in about 25% of U.S. hospitals. Industry experts that figure to rise by 15% per year until 2033 when the systems will cover most of the acute care space.
Why are more hospitals turning to RTLS for asset management tracking? What are the benefits, and what are some of the angles you should be considering when weighing if your hospital should be next? We did the research to get you started.
Two Drivers Of Increased RTLS Implementations
Most of the recent and expected growth in RTLS implementation can be traced to two key drivers: First, RTLS prices have exhibited a marked decline trend since 2020 and are expected to drop even further over the next 2-3 years. That drop in prices has resulted in increased adoption of RTLS systems as customers overcome their price sensitivity.
US healthcare markets are largely driven by price sensitivity, particularly during the early adoption phase. It follows that the recently declining prices indicate it's an excellent time for you to start exploring the RTLS market. Base Real Time Location system deployment costs decreased 20% between 2014 and 2020 and are set to decline further by 2024 despite increased RTLS system capabilities.
The second key driver is a rising demand for software and analytics across the healthcare space. Analytics with software implementation provides many advantages to the customers present in the healthcare market for medical equipment and patient tracking. Software provides features such as automated alerts and notifications, data representation in a geospatial facility map, APIs for integration with third party systems, and many more. 
RTLS software solutions also facilitate an asset tracking solution that adheres to hospital CFO goals to address asset shrinkage despite fewer (and more expensive) labor resources to do so. RTLS reduces the need for manual and labor-intensive processes and hence are increasingly being used in hospitals to drive efficiencies and lower a variety of costs.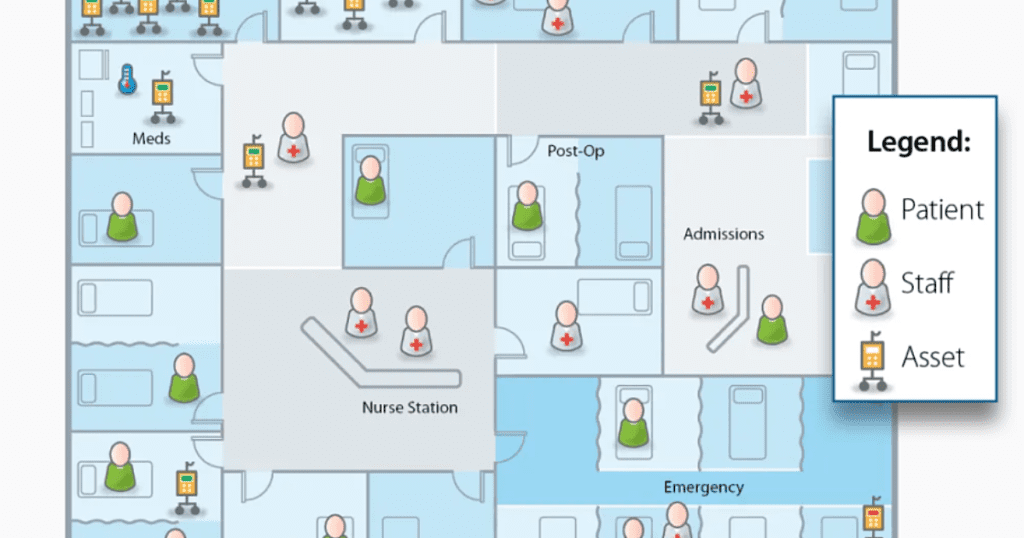 Benefits of RTLS Solutions
Hospitals are complex environments with a wide range of equipment and assets that are critical to patient care. These assets can include everything from medical devices and equipment to furniture and supplies. Without an effective asset management tracking system, it can be difficult for hospital staff to keep track of all these assets and ensure they are being used efficiently and effectively.
The benefits of RTLS Solutions can be roughly grouped into three key buckets:
1. Patient Safety: One of the main reasons for having an asset management tracking system in hospitals is to improve patient safety. By tracking the location and status of medical equipment and devices, hospital staff can ensure that they are properly maintained and calibrated, reducing the risk of equipment failure or malfunction. This can help to prevent medical errors and improve patient outcomes. RTLS implementation is highly correlated with improved HCAHPS scores and can quickly deliver high ROI at a moderate cost. 
2. Operational Efficiency: Another important reason for having an asset management tracking system in hospitals is to improve operational efficiency. By tracking the location and usage of assets, hospital staff can identify areas where equipment is being underutilized or where there are bottlenecks in the supply chain. This can help to optimize resource allocation and reduce waste, ultimately leading to cost savings for the hospital. Many hospitals can reduce shrinkage of key assets by 20% or more.
3. Regulatory Compliance: In addition to improving patient safety and operational efficiency, an asset management tracking system can also help hospitals to comply with regulatory requirements. Many medical devices and equipment are subject to strict regulations and standards, and an effective tracking system can help hospitals to ensure that they are meeting these requirements.
Overall, there are many compelling reasons for hospitals to implement an asset management tracking system. By improving patient safety, operational efficiency, and regulatory compliance, these systems can help hospitals to provide better care to their patients while also reducing costs and improving overall performance.
Whether you've started to explore RTLS or not, it's coming to your hospital sooner than you think. At B&B Integrations, we partner with Centrak and other leading RTLS providers and are equip to install the system that makes the most sense for your unique situation. Contact us for a free consultation to get started!